Located on Boston's North Shore, Danvers has always been a popular location for Malone Fence Company projects.
Like our hometown of Salem, Danvers abuts the Danvers River. The two communities also share a common roadway, Route 114, which makes it easy for us to get over to our fence projects in Danvers.
Over the past 28 years, we've completed our fair share of Danvers fence installations. In fact, three years ago we wrote a blog about fence law in Danvers — be sure to check it out if you're a resident of the town.
Today, we'd like to highlight a recent wood fence installation for a Danvers customer. Previously, the customer had a wood fence and a chain link fence wrapping the property, as pictured below.
The new wood fence features pressure-treated posts of southern yellow pine. The backing rails and tongue-and-groove boards are northern white cedar.
The post caps and lattice are western red cedar, and all sections are hand-nailed using aluminum ring shank nails. Below are two photos of the fence — one from the backyard and one from the street.
Below is a photo of the gate with square lattice.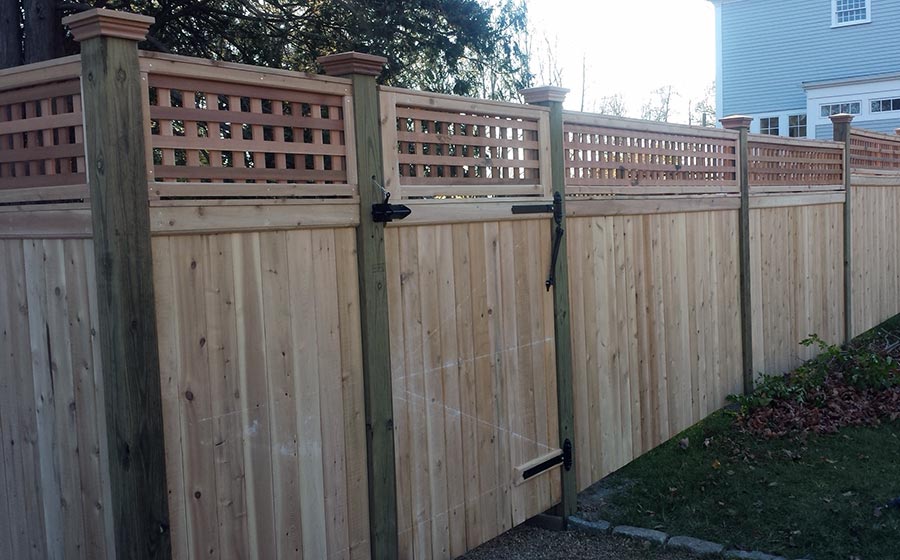 This project also included a section of steel fencing. The two materials, steel and wood, are blended seamlessly, as these two photos show.
If you're considering a wood fence installation in Danvers or anywhere else on the North Shore or Greater Boston, be sure to talk with Malone Fence Company first. You can reach us at (978) 744-7339 or info@malonefencecompany.com.