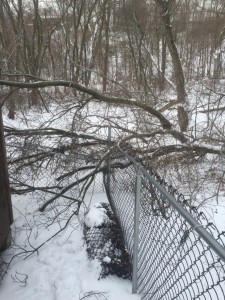 Winter's been slow in coming this year. Aside from sparing your back the strain of shoveling, Mother Nature has given you some extra time to winterize your fence.
Whatever type of fence you have — wood, vinyl, ornamental or chain link — there are three key steps you should take to keep it in top shape:
Get rid of overhanging tree limbs and that can accumulate serious ice and drop it onto your fence, and even bring a heavy chunk of the tree down with it.
Never pile mulch, leaves or wood against your fence. That's a recipe for rot, rust or warping.
In fact, avoid moisture overall, as much as possible. Don't use your fence to shore up a sledding hill, and keep an eye on melting and freezing ice patches that could be damaging over the course of the season.
Now for some additional fence-specific tips:
Wood fences: Check your fence closely for cracked or loose pickets and boards. Make sure gates are sturdy, not sagging, and that latches haven't begun to rust. The time to fix them is before the worst weather sets in. Tighten things up now so damage won't spread.
Vinyl fences: Your fence's flexibility drops with the temperature. As it "freezes," it's more vulnerable to damage from heavy objects. Never use it to prop up equipment, and try to keep kids from climbing or sitting on it when those snowbanks build up.
Chain link, ornamental aluminum and iron fences: We've all been warned about the dangers of touching our tongues to the metal. But did you know that snow melt and metal also don't mix? When you're throwing down salt, steer clear of the fence, or try using sand instead.
Fence maintenance is an ongoing effort, whatever the weather. Try adding these items to your mental checklist when you're out checking gutters and clearing walkways. As with everything in home repair, prevention is easier than rehabilitation, so don't wait another day to start incorporating these tips. Your fence will thank you for it come spring.