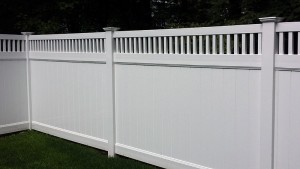 After the brutal winter of 2015 it is now time to turn our attention to Spring. If you procrastinated about your new fencing  installation last year make sure to contact the fence professionals at Malone Fence Company early. In most cases we still have the free estimate we provided to you last year on file, so don't be concerned about too much snow on the ground. Contact us at 800-649-7339 today, so we can review the estimate and make adjustments if needed. In most cases the price is probably still good. If you had a fence installed previously by us or another fence contractor and you know it is going to need repairs or adjustments, call early as the demand for repairs to fences will be high.
Repair or Replace Your Residential Fence
Many homeowners and businesses are going to be faced with the decision of whether to replace or repair their damaged wooden fence. Maybe your Vinyl fence was on its last leg before winter and the decision will be easy to simply plan for a new fence installation. Perhaps your back yard fence no longer confines your dog and poses a safety concern. Many people incurred unexpected expenses resulting in economic hardships this winter; such as, plowing, roof clearing, ice dams, high heating costs and loss of work days due to the constant barrage of winter  storms and blizzards. These storms brought snow totals that approached historical proportions. Malone Fence Company understands this. We have been in business for almost 40 years and have seen just about everything. We will work with you to reach a logical, well thought out plan on how to approach your individual fencing needs. The fencing professionals on our staff have the knowledge and expertise to guide you through this process. One of our company credos is that we have "fences for every budget and every need."
Business Owners  And Property Managers with Commercial Fences
Commercial property owners and property managers are going to face the same decisions that I talked about previously. Malone Fence Company has the crews and the experience in all types of commercial fence applications.
Chain link fences 
Gates and gate operators
Galvanized and vinyl coated fabric
Barbed wire for chain link fences
Onamental aluminum and iron fences
Wrought iron fences
Wood fences
Privacy slats
Wood on metal frame gates
Welded wire fencing
Construction yard fencing
We service, repair and install new commercial fences as well. Commercial property owners and property management companies understand the importance of maintaining the integrity of their sites from both visual appearance and security concerns. The tenants and clients they serve demand to have properties that are functional and beautiful. Get out there and try to assess your fencing needs and call early this Spring to schedule a free consultation with Malone Fence Company at  800-649-7339.
Conclusion: Call Early and Plan Ahead
Remember, Malone Fence Company is a full service, fully insured, year round fence repair and installation company. Our network of suppliers is vast and very well stocked with materials needed to service our clients. Also, the well trained, highly skilled fence installers at Malone Fence are poised and ready to service our new and existing clients.